︎ Exerpted from Beings by Clayton Campbell

Where does an artist like Mark Spencer figuratively travel over the course of half a century, spending thousands of hours in solitude with paint, canvas, and pencil, staring at unformed shapes piled up on his easels and walls?

The evidence is his artwork, a pictorial journal of emotional states and values, beliefs and archetypes, made whole, floating to the surface. In the studio, hushed and ordered like a scholar's redoubt, he takes a rag moist with turpentine and wipes a swath of burnt sienna over a slurry of indistinct shapes and something else appears.

He works into new possibilities with burnt umber and peach black and finds more forms. Hours go by, his face a foot from the 6 by 8-foot canvas, his right hand grasping a clutch of sable brushes he has used faithfully for years. They are his tools, his familiars. Like every master craftsman who has perfected his skills, the painter works without thinking; he just does, he is a Maker.
︎ Thumbnail Sketch

The 2018 work Tempered begins as a small pencil sketch. No more than a doodle, a hand seems to enter the bottom of the picture frame holding a saber-like shape. An arc swirls around this central shape, animating the center of the paper, which is bordered by a drawn rectangle, containing various squiggles indicating motion or space taken up by something indecipherable.

Like much of his first drawings that start as an unconscious prompt, it is a mere notation.
︎ Study in Oil

Mark next worked up a developed study in oil on gessoed paper, measuring 10 inches by 15 inches.

Highly colored, the hand became an odd obsidian-colored bundle containing what appears to be bodies. Flames burst forth from behind the bundle in a blaze of gold. They rest on an orange colored disk that is leaning against a grey background. The saber has become a semi-circular shape breaking the picture plane, still an animating device bringing energy and dynamism to the scene.

A cornucopia of flowers flies off the mass and threatens to float away.
︎ Final Work

The final work is a polished and brilliant 72-inch by 108-inch oil painting. The central elements in the oil study remain, but have been articulated to a high degree of refinement. The foreground is rendered with plants, cactus, and dirt. A bed of cotton lies underneath the bundled figures now clearly numbering two. Their eyes are closed, and they appear to be sleeping or dreaming in this mythic tableau. The flames appear to be made of a golden substance. The cornucopia is emerging from an opening in the disc that resembles an indeterminate body part, with sexual references. The grey background has become a mottled sky as the improbable saber shape now appears to be the sail of a ship, continuing to cut a swath through the pictorial space, denoting a journey undertaken in this mise en scène.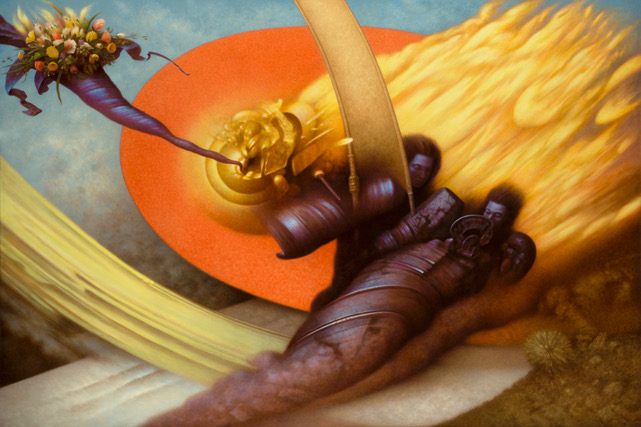 Through this calibrated process, from notation, to mid-point oil sketch, to the brilliantine surface of the final work, Mark arrives at a finished painting that is wrought from an unconscious source. The title, tempered, gives only slight clues to what this image, seemingly an allegory in some mythic or emotional space, may be referencing.